MEDISHINE,
the absolute powerhouse of
large-capacity filler treatment
All fillers from 1 to 10cc are available
Short treatment time and safe and effective treatment possible for large-capacity filler (body filler) treatment
view more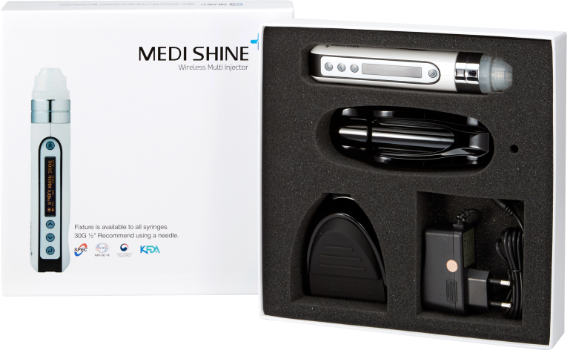 [ Package change scheduled for June 2023 ] MEDISHINE Development
Background Story
Filler procedures are rapidly increasing worldwide.
There are various types of fillers, but due to the characteristics of fillers, most of them have very high viscosity.
Therefore, it is difficult for practitioners who are new to filler surgery to inject uniformly at a constant speed.
SB Med Co., Ltd. has developed a new wireless handheld filler injector through consultation and field tests of domestic dermatologists and plastic surgeons for the satisfaction of both operators and patients.
MEDISHINE applies a small and light wireless handheld filler injector body and a wireless foot switch so that the operator can easily and safely inject at a constant rate and quantity.
Meet MEDISHINE, the absolute leader in filler procedures, now.
view more
SBMED
SBMED Inc. is a leading company in K-Beauty Medical Devices.
8 Domestic and international intellectual property rights

5 global certification

12 overseas export countries
NEWS
Meet the latest news from SBMED quickly.